Foreword about Franchise Investments
At Visa Franchise our clients routinely come to us looking for the best potential franchise investments that will qualify them for an investor visa in the U.S. With our franchise industry background and knowledge, we are well-positioned to help advise our clients on E-2 eligible investments as well as EB-5 eligible investments. Visa Franchise mainly focuses on consulting clients looking to obtain an E-2 visa (please see the list of E-2 eligible nationalities here), but also consults clients looking to obtain an L-1 visa and EB-5 visa through investment.
Visa Franchise's services focus on matching the unique profile of our client to the best franchise investment opportunities that match our client's profile. Therefore, it is vital to have a deep understanding of both these sides that need to be accounted for to find the optimal franchise investment solution. While I have written in the past on what are some characteristics that successful franchises typically have, I plan to go into much more detail on the aspects that a potential franchise investor should consider.
 Characteristics of the Individual Investor
With increased frequency, entrepreneurs are looking to invest in a franchise business instead of starting their own independent business or concept due to all the benefits that come with joining a franchise.
A few of the benefits that a franchise offers franchisees is the opportunity to join an existing brand with an established and proven business model. Additionally, franchises offer numerous ongoing support to franchisees. Including site selection, development, opening, hiring, training, marketing, vendor relationships, and operational support, among others.
The franchisor support is even that much more important for foreign nationals moving to the U.S. looking to open a business in a competitive market that they do not know as well as their home market. For these reasons and more, the vast majority of Visa Franchise clients elect to do a franchise investment instead of starting their own independent business in the U.S.
Deciding Your Investment Level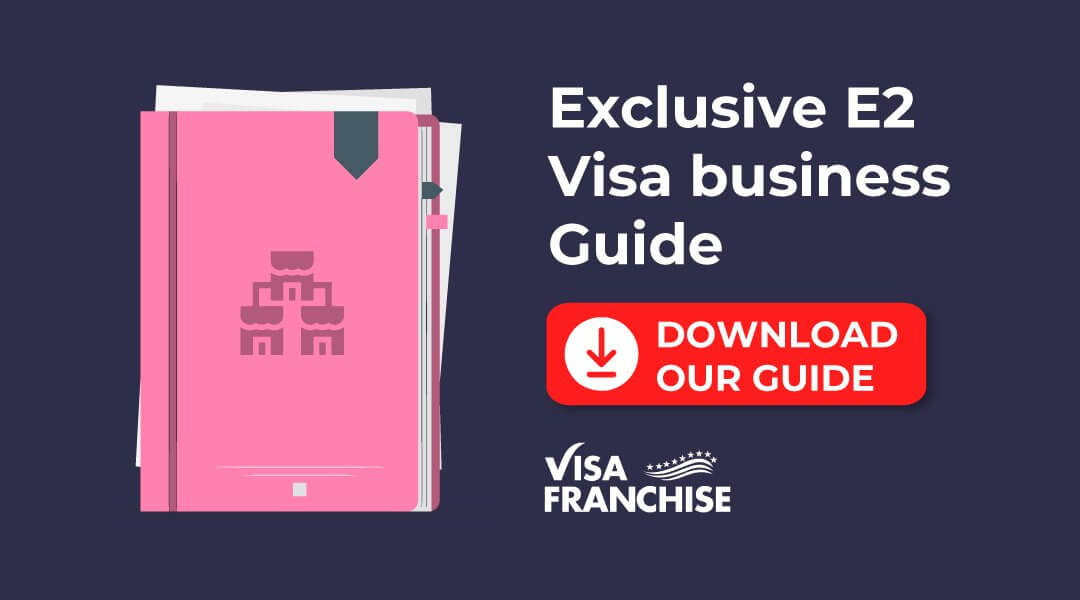 The investment level is the most important factor when deciding what franchise investment opportunities are available to the franchise investor. Therefore, the investor needs to figure out what would be a comfortable investment range for them.
At Visa Franchise, we strongly advise all of our clients to have a minimum investment of $150,000 in mind when deciding on potential E-2 visa businesses, although in some cases it is possible to invest in franchise businesses for a lesser amount depending on the business (e.g. service-based franchises) and if the investor has strong English language skills. With that being said, a higher total investment level significantly increases the number of franchise investment opportunities that are available.
From our experience, we have seen that a level of investment of $300,000 opens up many more opportunities than an investment level of $150,000. If the client is looking for something in the restaurant industry, typically the investment increases to $400,000 or more. Though there are some unique opportunities available for less than this amount. For those individuals unsure of how much they should be willing to invest, a number of the most important factors that dictate the investment level will be covered later in this article.
Before moving on to the next subject…
It is relevant to quickly cover the investment amount for the EB-5 investor visa. Current EB-5 legislation mandates that the minimum investment is $500,000 or more, though the EB-5 investment level is likely to rise significantly once the U.S. Congress passes impending reform in 2017.
---

We believe that once this happens the E-2 investor visa, will become a more viable option for many foreign nationals looking to obtain an investor visa and move to the U.S. with their family.

---

We will have to wait and see what happens with the government's efforts to reform the EB-5 visa program in the coming months.
Level of Involvement
Determining the level of involvement in the business will dictate how much investment is required. Not all businesses are created equal, with some businesses requiring more "hands-on" management and others permitting a more "hands-off" management where an owner can be a semi-absentee and hire a manager to oversee day-to-day operations. Early in the process, the franchise business investor needs to determine what level of involvement they will want to have in the business as this will dictate which businesses are potential options for them.
If the investor decides that they want to be very active in the day-to-day operations of the business, then this will typically allow them to invest a smaller investment amount as they likely will not require a manager when starting the business. However, if the investor decides that they would rather have a less active role in the day-to-day operations of the business, then it is quite likely they will need to hire a manager to oversee the daily operations. At Visa Franchise, we work with many franchises and non-franchise business opportunities that fit into either category to give our clients the flexibility to choose which type of business works best for them and their families.
Mapping Your Business Goals
Investor needs to figure out their business goals before deciding on what franchise business investment is the best opportunity for them. Below are some questions to consider that will help with the decision process:
What level of investment return does the investment opportunity offer?

What is the range of the payback period for the investment?

Does the income need to fully support the investor and their family or will it be supplemental income?

Does the investor want a business investment they can scale or a business investment with steady revenues that plateau after a couple of years?

After being actively involved in the business for the first year or two, would the investor be able to take a less active role in the business and hire a manager to oversee daily operations? With the less active role in the initial franchise investment, does the investor wish to establish additional franchise units?
The above questions are a few of the important questions that franchise business investor needs to ask themselves to help determine which franchise opportunities best fit their profile. Depending on the answers to these questions, the investment level will vary. Visa Franchise recommends that the more the investor is involved in the first year or two of the business, the greater the likelihood of success and faster investment return. Because they would likely take the role of a manager instead of needing to hire someone to oversee day-to-day operations. However, each person's individual goals and priorities are different which is why Visa Franchise offers our services to help our clients figure out the important factors that dictate the franchise opportunities available to them.
Selecting Your Industries of Interest
The next important factor for the investor to consider throughout the process of finding the best potential franchise investment opportunity is which industry or industries are the investors are most interested in. While roughly half of the franchises operate in the food or restaurant industry, there exist many franchise opportunities in a wide variety of industries. To provide some examples of these industries, franchise opportunities exist in health and wellness, spa, property management, commercial cleaning, education, and senior care, to name just a few.
We at Visa Franchise strongly advise our clients and anyone looking to invest in a franchise to be open to various industries. We have seen that more often than not the client does not fully understand the promising opportunities in industries they are unfamiliar with or the client has preconceived notions of certain industries that are quite different from how the businesses in those industries operate in reality. By arbitrarily closing off options in certain industries, a potential franchise business investor might be removing some investment opportunities that would be great options for them and their family.
Territory Availability
Just as important as selecting the actual franchise business investment is deciding the geographic area or city the business will be operating within. Depending on the business, some geographic areas or cities might be better suited for that business than others. If a franchise is established, it may not have an available territory where the investor wants to open for business. Franchisors provide their franchisees with an exclusive territory when they decide to open a franchise. This protects the franchisee from competition from other franchisees in the system.
Visa Franchise recommends our clients be flexible regarding which cities they are interested in doing a franchise investment. This enables them to decide amongst the best franchise investment opportunities for them. Regardless of where they end up deciding to open the business. Once the geographic area and city are decided and the franchise agreement is signed, the franchisor provides thorough support in helping them find the best location within the territory or city that will comply with the needs of the business. Visa Franchise and the franchisor help the prospective investor find the best area for them to establish the business.
Characteristics of the Franchise Business Investment
After the investor goes through the aforementioned points to figure out their profile and goals, they are ready to begin looking at potential franchise business investments. The exercise of analyzing their characteristics needs to come first in the process. Because would be very difficult to choose a franchise without first knowing much of that information. We at Visa Franchise have analyzed over 600 franchises. However, we are only working with roughly 50 franchise investments in our portfolio. Because the majority of franchise concepts are not sound investments.
In addition, not all franchises are suitable for all investors, as each investor is unique. However, we have found that there are some universal characteristics. And we actively seek them out in the franchise investments we recommend to clients. Those characteristics will be covered in detail here shortly.
Strong Business Case
The most important factor to consider in any potential franchise business investment is whether the business case makes sense. The investor should be investing in a franchise business that will enable them to earn a living to support them. As earn a reasonable return on their investment. The business needs to be offering a product or service that is in demand in the chosen market.
The investor should believe in the business model before deciding on the investment. Every franchise business is different and requires various factors to be considered before investing. At Visa Franchise we are very selective of the businesses that we will put in front of our clients. Because we need to believe in the business ourselves. Once the business case has been demonstrated to be sound and replicable, the investor must consider other factors.
Recurring Revenues
We have identified that recurring revenue is a common factor in many of the most promising franchise business opportunities. We researched and analyzed more than 600 franchise concepts. Recurring revenue is income that the business can receive continuously from individual customers. A few examples of some businesses with recurring revenues would include a massage studio that charged customers monthly for massages. Or a barbershop where customers return every 2-6 weeks. Also, a gelato concept that had business-to-business sales and sold to restaurants every month. Or a body wax studio that had customers return every 3-6 weeks for their wax.
There are many more examples but these are all real-world cases of businesses that can take advantage of recurring revenues. Typically, these types of businesses can grow their revenues by adding more customers over time. As long as companies provide positive customer service, they will be able to retain customers for a long time.
High Margin Businesses
In addition to recurring revenues, many of the more promising franchise business concepts have high margins. High margins are when a business offers a service or product for a price that is significantly more than it costs to perform the service or make the product. For instance, consider an ice cream shop that has costs $0.15 to produce the product but sells it at $5.00. If the business does not have recurring revenues, then high margins are typically necessary to compensate for the lack of regularity. However, ideally, the business has both high margins and recurring revenues.
Strong Management Team
A crucial factor to consider when investing in a franchise is the franchise's management team. The success of the franchise management team ensures the success of the franchise. The franchisor helps franchisees with a variety of aspects. This includes assisting in site selection and development, training, and assisting the franchisee with hiring personnel. Also, leading marketing campaigns, maintaining relationships with suppliers, and offering ongoing operational support.
Additionally, all the franchisees of a franchise system benefit when the brand presence grows and improves. Investors should look for franchisees with strong management teams that help franchisees grow their businesses. And work to bring new franchisees into the system. In this way, brand presence is increased. Visa Franchise actively works with franchisees. And continually seeks out new franchisees who have trusted management teams. Franchises that maintain a strong growth mentality. In the end, the franchisor can be considered a partner of the franchisee.
Growth of the Brand and Overall Industry
A franchise that is growing its average revenues per unit is typically indicative of a healthy franchise concept and system. Would be difficult for a franchise to grow in sales and unit count without a strong business case. As well as a franchise management team working to grow the brand.
Additionally, it helps the business if the overall industry is growing as well. Visa Franchise has found many emerging brands and concepts. They are growing rapidly. A few examples of new industries experiencing be healthy fast food or better burger concepts. The key is to find the right franchise concept for success within a rapidly growing industry.
Territory Availability in Desired Area
The franchise unit's area is located is another integral part of the investment process. Most investors prefer to have their business close to where they live. Is possible that the desired franchise concept does not have any territory available in the area that the investor wants. This is because there may be another franchisee in that area. That is why it helps to be flexible when choosing the area to open and operate the business.
This is another benefit of emerging franchises with only a few units. They typically have more prime territory available for development to new franchisees than do older, more established ones. For this reason, Visa Franchise has many emerging franchises in our portfolio as options. Thus, our clients can invest in a franchise in the areas and cities where they want to live.
Accepting of Foreign Nationals on Investor Visas
If the potential franchisee investor is a foreign national without a green card or permanent legal status in the U.S., then they need to verify that the franchise they are interested in is open to working with foreign nationals. While this point is not relevant to Americans or green card holders, it is extremely important for foreign nationals looking to do an E-2 visa business investment, L-1 visa business investment, or EB-5 visa business investment.
Visa Franchise has found that roughly 30% of franchises do not accept foreign nationals or non-green cardholders as franchisees. Many of the franchises that do not accept foreign nationals are among the most established and well-known brands. Including brands such as Subway, Dunkin Donuts, and Jimmy Johns. And forget Starbucks, as it is not even a franchise in the U.S.!
Emerging franchise concepts tend to be more open to working with foreign nationals. They looking to select a franchise business investment that they can develop and grow. For this reason, Visa Franchise has found many promising franchise options that fulfill the needs of our foreign national clients. Also, we identify brands that do not work with foreign nationals to save our clients time and money.
Selecting the Best Franchise Investment
To decide which franchise business investments are good potential options, one must understand all of the characteristics of their profile. Also, the most relevant characteristics of the franchise business. Flexibility and the ability to invest a higher investment amount lead to more potential options being available. As an investor, it is important to remember the main goals of the investment. Also, all the important characteristics that they would like to see in a franchise business investment. At the end of the day, the investment choice should allow the investor to see themselves developing.
Visa Franchise is here to help lend our knowledge and expertise to facilitate the process as much as possible. Individuals looking to make a franchise business investment to obtain an investor visa through our services. Part of the process is understanding our client's unique profile before beginning the franchise search, analysis, and due diligence. We then present our clients with an analysis of the best franchise business investments that fit their profile. When our clients select the franchise they are most interested in, we help to facilitate the introduction and discovery process. Throughout the entire process, Visa Franchise accompanies our clients up until they decide on their investment.
Note: Visa Franchise does not make any financial performance representations other than provided by franchisors
(1) E-2 Treaty Investor Visa allows a national of a "treaty country" – a country with which the U.S. maintains a treaty of commerce and navigation – to reside in the U.S. when investing a substantial amount of capital in a U.S. business (generally >$150,000)
(2) EB-5 visa requires at least a $500,000 investment in a U.S. business that creates at least ten (10) jobs. For U.S. citizens or green cardholders in the first two (2) years. Investors may either start their businesses as active investors or invest in designated Regional Centers as passive investors.