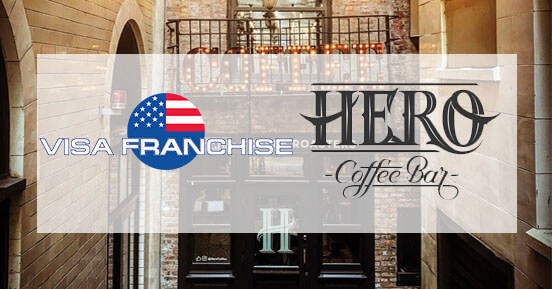 Visa Franchise Presents: How to immigrate to the U.S. through a HERO Coffee investment
Visa Franchise looks forward to hosting a webinar with Hero's Coffee on Tuesday, August 21 at 8AM (Los Angeles) / 11AM (New York). The webinar is geared towards foreign nationals seeking to immigrate to the U.S. through the E-2 investor visa. Please register to receive the webinar details before August 19.
AGENDA 
Opening
Project Development Director at Visa Franchise, Jack Findaro
Investing in a Franchise with Hero's Coffee
Co-Founder of LIMITLESS Coffee & HERO Coffee Bar Matt Matros
What Is Visa Franchise?

Visa Franchise guides investors in identifying and analyzing the best investment opportunities tailored to their specific objectives. The focus of the firm is on franchises that qualify for the E-2 and EB-5 visas. Visa Franchise is the trusted advisor of clients from all over the world when it comes to helping them find the business opportunity that best meets their investment and immigration goals. Visa Franchise takes into consideration their capability, experience, and size of investment to ensure that they choose the best possible option for their unique, individual situation. Visa Franchise is based in Miami, Florida with offices throughout the U.S. and world.
If you are interested in owning a franchise please reach out to info@visafranchise.com or call us at +1-888-550-7556
Who is Matt Matros?
Matt Matros is one of Chicago's leading food & beverage entrepnuers. Matt is the founder of PROTEIN BAR® (www.theproteinbar.com), a wildly popular chain of healthy food fast casual restaurants. Most recently, Matt has founded LIMITLESS™ Coffee & Tea (www.limitlesscoffee.com), a vertically-integrated coffee & tea company that is relentlessly pursuing the cleanest coffee & tea in the world. LIMITLESS' coffee and tea products can be found in over 2,000 grocery stores nationwide and at popular restaurants such as Bar Siena, Barrio and Little Beet Table. Matt is also the Co-Founder of Hero Coffee Bar which is an upcoming specialty coffee shop in Chicago.