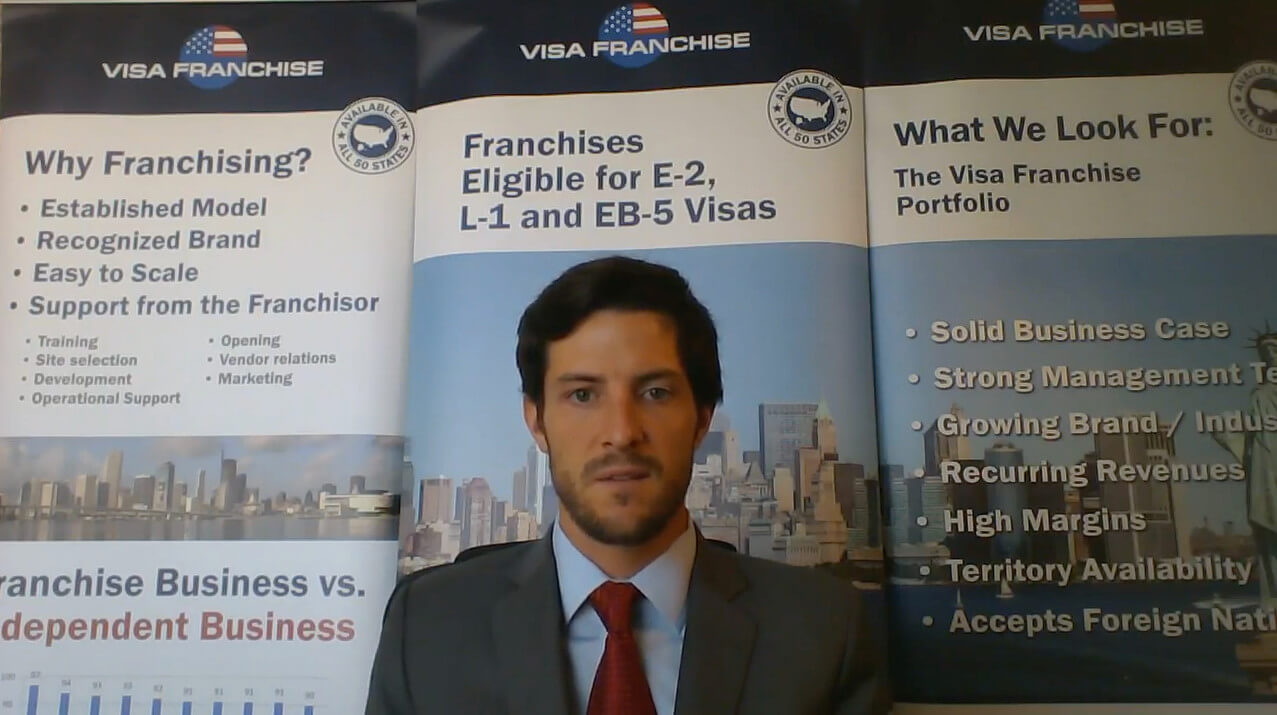 29 maio

As características que buscamos em uma franquia

Hello, this is Patrick Findaro. I'm the Commercial Director with Visa Franchise. Our firm helps find and analyze businesses, principally franchises, that qualify for U.S. investor visas including the E-2, EB-5, and L-1 visas. Today, I'm going to talk about the most important characteristics that we look for when analyzing businesses for our clients. We have looked at over 600 franchises. With that, we have a portfolio of about 50 franchises and businesses in a wide range of industries. Here are the following characteristics that we actively seek out when we analyze these businesses before adding them to our portfolio.
Important Factors When Analysing Businesses
It needs to make financial sense. It has to have a solid business case. There needs to be a strong management team behind the franchise. As in franchising, you're in business for yourself but not by yourself. The franchisor is gonna provide a lot of support in the beginning as well as throughout the ongoing operations. The industry and the brand need to be growing. This is fundamental. Also, we look for recurring revenues and/or high-margin businesses. To give you an example, gelato is an industry in the U.S. that's growing a lot. In other words, Italian ice cream. It's grown over 30% year over year, from 2015 to 2016. 
---

So it's a great growth industry, recurring revenues as you can sell to restaurants, hotels, and you can expand on your client base and rely on getting paid every week or every couple of weeks from these restaurants. And then high margins where maybe it costs 10 to 15 cents to produce gelato and then you can sell it for $5 plus.

---
Territory
Also, we look to make sure that the territory is available. Many Americans wanna move to Florida, Texas, California as do many of our clients. So at times, the franchises are not available anymore or they should only be available in the next 6 months or 12 months and we have to make sure that there is territory available. And those clients that are a little more flexible in terms of the city and exact neighborhood that they're willing to open the business, that helps us a lot by providing solid franchise opportunities to our clients.
Foreign Nationals
And then, pretty much the most important criteria that it's more to check the box, does a franchise accept foreign nationals? In our experience, 30% of franchises do not accept foreign nationals. Some major brands like Dunkin' Donuts, Jimmy John's, Subway, 7-Eleven do not accept foreign nationals. They require you to already have a green card and/or a U.S. passport.
Conclusion
That's it for today. Again, this is Patrick Findaro, Visa Franchise. Feel free to contact us at info@visafranchise.com. Or give us a call at our headquarters in Miami, country code U.S. 1-305-454-7744. Thanks and have a great day.