Pronto Wash is an up-and coming franchise concept with opportunities popping up in multiple locations across the country. The company was founded in 2001, and now boasts the presence of over 350 locations in 20 countries.
Pronto Wash is welcoming potential franchise candidates who are self-starters and customer-oriented, and can commit their time and effort to grow their franchise.

About Pronto Wash
On their website, the company states that their mission is to ensure cleaning and maintaining a vehicle isn't an inconvenience. They offer the franchise's services in a range of formats, including fixed facilities in shopping centers and high traffic areas, mobile washing units (vans and cars), and specific business-to-business (B2B) offerings.
One attractive feature of the business and their mission is their commitment to being eco-friendly. The Pronto Wash process takes no water and no runoff to clean vehicles, and uses 100% biodegradable products.
The main service for customers is the external & internal washes, using the company's Miracle Lotion and vacuum systems. They offer a step up of protection and maintenance with the exterior restoration and ceramic coating which ensures a deeper clean and more external durability against the environment. All services are completed and monitored by a certified Pronto Wash technician. 

To operate a Pronto Wash Franchise
As a franchisee, you can choose to open and operate a mobile franchised unit, or invest in a brick and mortar location to run your services from. There are pros and cons to each of these alternatives — some investors may be better suited for a fixed unit, which can service more clients simultaneously and offer enhanced services.
However, others can opt for the mobile unit, which can swiftly move from location to location and serve customers on the go. In their Franchise Disclosure Document, the franchisor states that the average franchisee opens for business within 90 to 120 days of signing the agreement. 
Pronto Wash Franchise Locations
There are currently 9 states where current Pronto Wash franchises are being operated. Most of the current franchises are in Florida, but the company is expanding to the rest of the southeastern US, and is also moving quickly into Texas and California. Furthermore, there are mobile and fixed outlets being opened around major airports in cities such as Portland, St. Louis, San Francisco, and Atlanta.
The franchising page on the company website is a great place to find more information on potential locations. Additionally, the company has proudly developed business and investment models tailored for E-2 and EB5 investors, seeking a worthwhile investment as well as visa approval. More info on these opportunities can be found on the Visa Investing page.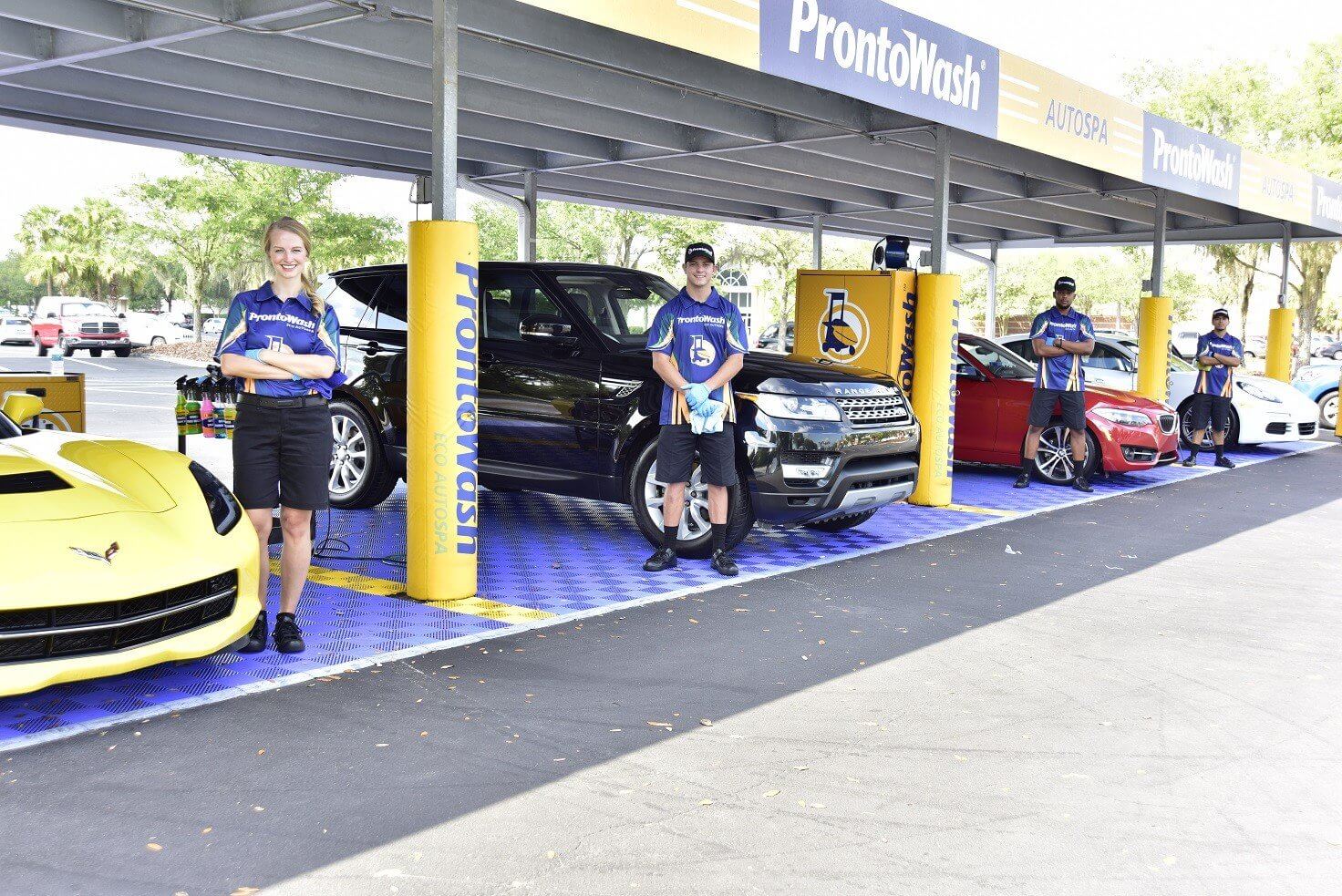 Key data to invert in a Pronto Wash Franchise
Potential investors can engage in three levels of partnership with the company. A single-unit franchisee, a multi-unit franchisee with outlets across multiple locations in a region, and lastly, a Master Unit Franchisee. Who also assists in the sale of other franchises and company growth. 
There are some low financial requirements for interested investors.
First, investors must have a net worth of at least $35,000. Additionally, investors will have to invest between $37,500 and $400,575 to start their franchise. Although this range is very wide, it accounts for the options of investing in a mobile ProntoWash unit or a fixed facility. On the high end, most of the costs account for securing a physical location with rent. And renovating the space to best suit your business. Mobile units will lie lower on this range, as the investment entails a purchase of a vehicle and the cleaning equipment it will contain.
Overall, however, the initial investment is a small cost for the opportunity to join a brand which is quickly growing and capturing a unique segment of the market. 
The franchisor enforces some centralized fees for your outlet that the parent franchisor utilizes for operational support.

Pronto Wash Franchise Fees
First is the franchise fee: The initial payment to the franchisor to use and profit from the company name and brand. This fee can range from $5,000 to $50,000 depending on the size and territory of a fixed facility, or $5,000 per mobile unit. The franchisor takes a modest 5% cut of monthly revenues as royalty, and up to 3% of revenues for a national advertising fee.
These fees are used to justify the parent company's maintenance of their brand and also the connections that come with being part of the Pronto Wash system. Furthermore, the upper management team with years of experience will provide extensive managerial & operational support. 
Before you invest in a Pronto Wash, speak with at least 3 existing franchisees. And evaluate other options for your E2 visa. 
Looking for support for your franchise search/ analysis? At Visa Franchise, we strive to deliver you accurate business insights and help you translate your investments into success. Read more about our service offerings here, or reach out to us to schedule your US business consultation today!