Ghost Kitchens – New Trend May Be Future of the Franchise Industry
Visa Franchise supports immigrant entrepreneurs in finding and analyzing businesses for their E-2 visa allowing them to pursue their American Dream. In the past, many of our clients have been influenced to move to the U.S. by the opportunities available for investment in the food industry. Recent events particularly related to the COVID-19 induced lockdown, however, have led to numerous changes within the industry itself, one of them being the exponential growth of ghost kitchen's presence in this particular market. Ghost kitchens, which are also known as remote or virtual kitchens, are professional food preparation facilities focusing on serving solely takeout and delivery orders. Despite the initial hesitation of industry patrons in investing in the development of a facility of the sorts, ghost kitchens' outright success from the beginning of their operations quickly proved their market value and have now made them a popular investment option amongst individuals looking to invest in this fast-growing segment of the industry. We analyze in-depth the benefits of investing in a ghost kitchen concept, particularly as the economy adapts to the new era marked by the "New Normal" mentality during the COVID-19 epidemic.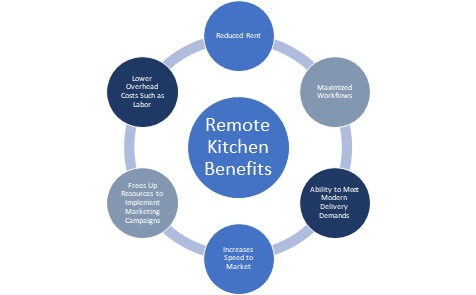 Efficient Budgeting
            Amongst the numerous benefits of investing in a remote kitchen concept, the first one that comes to mind when analyzing this investment opportunity is the facility's ability to operate on an efficient budget, particularly due to the fact that they typically incur a lower rent, have reduced overhead costs, and a smaller payroll to account for compared to a regular franchise brick-and-mortar location. The fact that no customers actually dine at the facility means that not only can a smaller space be used by the restaurant to run its operations, but also that they do not have to be as concerned about securing a prime market location. Primate locations that attract additional customers due to increased foot traffic, will also significantly raise the location's rent value. Similarly, the fact that the restaurant does not need employees to serve customers dining at their facility, allows for a reduced payroll as the only employees necessary will be those working in the kitchen. Finally, the reduced space size and the fact that the location's operations are focused solely on one goal – which is food preparation – also means the restaurant will experience lower overhead costs, which once again consequently allows for efficient budgeting from the restaurant's end. All of these decreased costs added together lead to significant savings for the owner of a ghost kitchen food concept.
Significant Flexibility
In addition to its efficient budgeting, other benefits of investing in a ghost kitchen are related to its significant flexibility, which consequently allows for restaurants to further meet modern delivery demands as well as to adapt to recently imposed COVID-19-related operational restrictions with a greater ease than standard brick-and-mortar restaurants. Their efficient cost structure, for example, has allowed for a greater amount of a restaurant's funds to be allocated towards innovative market demands, particularly related to delivery services. Amongst the numerous costs that would be directed towards it, they include service fees paid to third-party delivery services such as Postmates or UberEats. Another advantage of remote kitchens, is that their redefined budget allows for a greater amount of it to be invested not only towards more presentable takeout packages, but also in online marketing campaigns that will attract customers. Additionally, by not offering any dining services within their own facilities, virtual kitchens do not have to preoccupy themselves with meeting recently induced restrictions, such as social distancing measures, adapted opening hours, and even limited capacity requirements. Instead, their small number of employees as well as lower square-footage work to their advantage in that less people are potentially exposed to any COVID-19 outbreaks within the facility and that the facility itself will be easier to be maintained in a clean and organized manner. All of these flexibility benefits improve the operations of the business for a ghost kitchen franchise owner.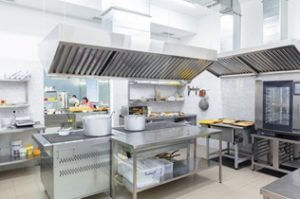 Logistical Upgrade
Finally, a third class of benefits of investing in a ghost kitchen restaurant is related to the logistical upgrade these restaurant facilities obtain when adapting their operation structure to be catered solely towards takeout and delivery orders. By narrowing the kind of services offered, virtual kitchens are able to not only increase their product's speed to market, but also to maximize their own internal workflows. In terms of the former, by not being exposed to having to service orders "on-the-fly", remote kitchens are focused solely on preparing items for orders previously placed for takeout and delivery, consequently allowing for them to be prepared and delivered in a shorter-time frame, which significantly increases the concept's value within 3rd party delivery apps and also amongst locals looking for a quick order option. As for maximized workflows, the fact that the concept's whole team is focused entirely on servicing these orders, rather than dividing themselves between takeout / delivery and guests dining at the facilities, means they are able to maximize their operational structure and consequently not only cater to more orders, but also ensure they are doing so in a manner that allows for their whole logistical structure to operate at a smoother flow.
Ghost Kitchens Will Be Here to Stay
Despite industry investors' initial hesitation to investing in a concept which would significantly redesign the restaurant industry, ghost kitchens have been able to secure their place in the market in the same way their operations are run: quickly and smoothly. The benefits of investing in remote kitchens outlined above are only some amongst the numerous advantages that come with joining this new facet of the restaurant industry. As we have shown throughout this analysis, the concept was already revolutionary in that by mainstreaming their services they were able to grow rather than shrink, marking a stark contrast to owners of traditional brick-and-mortar restaurants. Virtual kitchen's efficient budgeting, significant flexibility, and logistical upgrade are all able to tie in together in a manner that allows for operations to run more smoothly while at the same time allowing for the concept's cash flows to be optimized by lowering costs and increasing gains. There is no doubt that in these uncertain times, any investment opportunity should be analyzed with a cautious and meticulous stance. However, our team at Visa Franchise is confident in the ability of remote kitchens to continue to grow and cater to the new market that has recently emerged. We at Visa Franchise work with ghost kitchen investment options who continue to grow and be successful in this environment.
To learn more about ghost kitchens, read our brochure here.