This post is for those that are looking for an experienced business broker with E-2 visa applicants. And I wanna go through a few of the states that our clients at Visa Franchise are most focused on moving to, which is Florida, Texas, and California. For Visa Franchise, we just help find and analyze businesses, really just franchises that are eligible for the E2 visa.
And then as for businesses, we do have a site vettedbiz.com that has over 1,600 businesses for sale. However, we do not act as a business broker in any state. So I just wanna give you a little bit of advice when you go about selecting a business broker for your E2 visa.
A little bit of advice when you go about selecting a business broker
For Florida, it's pretty straightforward, as it's a state where different business brokers can work together on the same deal. So there's buy-side representation, representing the E2 visa business investor with finding different opportunities, analyzing different opportunities. Then you have the seller broker who represents the seller of the business. And, with this business model in Florida, you have thousands of businesses available.
If you decide to engage a buy-side broker, which I highly recommend, especially if this is your first time buying a business in the United States. It's good to have a buyer broker who has done hundreds of transactions already and really knows what to look out for together with the accountant.
How to find and choose a good buy-side broker?
So how do you go about finding that? With referrals from immigration attorneys online, you can see different resources at Vetted Biz. We have a good directory of business brokers that already have experience with the E2 visa. So feel free, reach out, we're happy to send you a couple that can advise you with finding the right business to buy for your E2 visa.
In other states like Texas, it's a little more difficult, because in Texas, it's not common practice for business brokers across the board to split commissions. So you might have to talk to various business brokers, and you might find some broker that could help you with buy-side representation, but you will not have access to all the publicly listed businesses for sale.
But that would be a good start and then you're gonna have to use a website like BizBuySell, BusinessesForSale, and other different websites, or even Vetted Biz, we have a growing listing of businesses for sale in Texas as well to find the right business, and then get in contact with the seller broker.
And you can also talk to some buyer brokers that would exclusively represent you and not have dual representation. So that's it for Texas. It's a little more complicated than Florida if you're looking to buy a business for the first time.
How is it in California?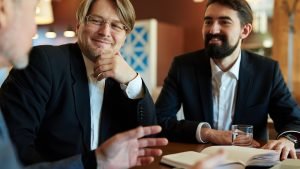 And then for California, it's similar to Texas where the business brokers don't have a common system where they split compensation. So there are many businesses for sale and business broker sellers that are willing to split compensation.
So you can definitely work with a broker to represent you on the buy-side and you'll have access to businesses, but not all the businesses that are listed for sale. And, for California, in particular, I'd recommend taking a look at the site bizben.com. We have no affiliation with these websites like bizben.com, BizBuySell, and other websites, we just wanna give you the best resources to help find the right business to buy.
Again, if it's your first time buying a business in these states, it's definitely worth talking to a few different business brokers. In Florida, you can work very closely with a buy-side representation, and you're gonna have access to the majority of the…pretty much all the businesses that are publicly available for sale. That buyer broker is going to help you similar to how a residential realtor is able to represent the buyer of a property or a lease of a property.
So, again, feel free to check out our website vettedbiz.com. We have thousands of businesses for sale. And if you'd like, we could put you in contact with a couple of business brokers in your area to see what they can find for you in terms of E2.