Review Techy Franchise Costs, Background & more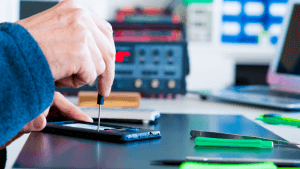 Timothy: Yeah, we're excited to be a part of this. When we first met, you showed us a lot of what you do. And this is a great fit for us to continue to grow our side of things too here at Techy. You know, we've done a lot of E2 visas and… We haven't done any EB-5s yet, but we've handled a lot of E2 visas. And we continue to grow that way. And it's a great fit for the people that want to come to the U.S. and for us too, as well, so.
Patrick: Yeah, what attracted me initially about the Techy brand is the relatively low investment amount, I believe, like around 110k, obviously, can be more anywhere…
Bill: Anywhere from 110,000 to say, 160,000, depending on the location, the build-out, you know the inventory, what's needed inside the square footage of the store. But yeah, I mean, we've got 25 plus B2 Visas approved. So yeah, it's definitely a great route to take, like you said, it's a very basic, you know, start-up. And within three weeks, you know, they're good to go. They have their business open and operating.
How do the franchisees interact?
Patrick: And I saw franchisees were training in another room. How do the franchisees interact? Is it kind of a community that they're going back and forth on questions? Or how is the interaction on an ongoing basis, between these franchisees?
Bill: Well, the training we have is pretty amazing, actually. The minimum training we offer is three weeks, but we want anyone to train for anywhere from three weeks to four months, to a year if they need to, if they have the time to do it. The more the training, the better, obviously. And we don't charge any additional for that. And currently, we have a class of maybe 10 right now, training, they're opening up three new locations here in South Florida. And yeah, they all interact, and, you know, maybe they could bring their employees in right now, they can send their owner-operators in there.
Patrick: Yeah, I was just going to ask you that. So we have a few clients that are high net worth individuals that they want to be more like an executive. And if they're exploring opening a couple of Techys, three or four even, and they're not going to be working day-to-day, could you then train like the regional manager and the store managers? How does that work out?
Bill: Yeah, 100%. The great thing about our operation is we could…you know, we built it so that people could remotely manage their stores. Obviously, you would need a manager in place. But yeah, they could definitely you know, do that.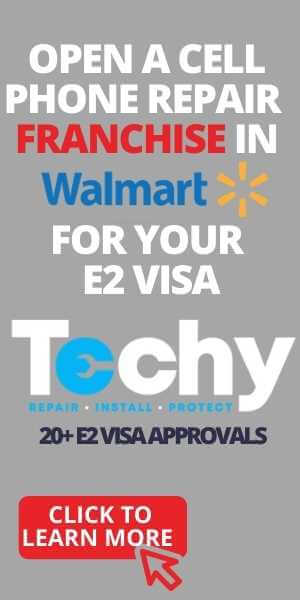 Timothy: For those that aren't familiar with the Techy brand, you know, you can envision the logo and see in the fine print, repairs, and smart phone install. Could you just tell a little bit about what services you provide?
Bill: Of course.
Techy's services
Timothy: Yeah, I mean, we fix any electronic device. Anything that pretty much has a button if you will, you know, phones, tablets, game consoles, drones, even this camera that we're looking into right now we could fix. The technology is kind of universal across the board. So it's pretty incredible. But we also are getting into smart home installations such as doorbells, cameras, thermostats, you know, turning these homes into smart homes, up the value of the homes. And it's a pretty incredible thing, and it's very popular right now. And then we also have accessories for a lot of these electronic devices as well.
Bill: Well, we also sell these smart home devices. So if you need your thermostats, your cameras. Also, we're into devices now. So we sell iPhones, tablets, computers, as well.
Timothy: Yes, yes. And we buy back those devices as well and refurbish them.
How do you differentiate between those big companies like Apple?
Patrick: So what…you know, we had met for lunch just a couple of weeks back, like in Rhode and I saw so many people at the Apple Store. Like I still don't get it. Why are you going to wait in line two hours to get your phone repaired? Or that person says sorry, we can't repair it, you need to buy another phone anyways. How do you guys differentiate between those big companies like Apple? Also, the smaller mom and pops that are doing, you know, cell phone repairs or selling cell phones?
Timothy: Yeah, I mean, look, one of the biggest things is we have a proven system, we have over 50 stores. We love having Apple out there, they're like our biggest motive, if you will, because you can't even make an appointment. You gotta wait two to three hours like you said. I mean, you just call us and just walk through the door and we'll have your device fixed within 45 minutes most of the time, the majority of the time. So it's just a better experience, all around, if you will. And it's just more of a one-on-one experience. Whereas you go to the Apple Store, there's just so many people in there and you really just don't have that one on one per se. And it takes a long time to get the process done. And we don't just fix Apple devices. We fix Samsungs and Nokias and all these other electronic devices, so we do so much more than just Apple products.
Bill: And a lot of people think you know, that's just their go-to spot. But we repair every iPhone and it's usually a lot cheaper than Apple as well. Plus you got the, you know, there's only so many Apple locations throughout and we have over 50 plus locations. So it's really you know, timing like Tim said, you know, within 30 to 45 minutes convenience.
The Walmart world
Patrick: And what really piqued my interest too is that you're entering a lot of Walmarts I understand. Is that correct?
Bill: Yeah.
Patrick: So someone could go shopping and drop off their cell phone at the beginning and pick it up at the end?
Bill: Yeah, we currently have, I think over 25 locations in Walmart, but we're approved to be over, we're pretty much partners with Walmart. And we'll be, you know, we can open up in any availability that Walmart has throughout the country. It's huge.
Timothy: Yeah. And which makes it easier to find real estate. You know, I mean, like, a lot of times, like, instead of us searching all over, with all these different companies, we actually just go call contact Walmart and say, send us your list. And then we just…
Patrick: You have a captive audience. Do you have any idea how many people go into a Walmart every day?
Bill: Oh, yeah, they send us the statistics on the…also, you know, the volume that they get, the walk-in traffic, plus the volume of the Walmart. So we kind of base it upon that. So if somebody wants to go into say, the Orlando market, we'll look at the busiest stores with the most traffic and narrow down, say, "Okay, we have these two available." And you know, it's a great opportunity.
Patrick: Okay, and the build-out, still not that expensive, they're looking to invest $110k, $160k.
Bill: It's still the same price range. And like I said before, you know, we're in and out of there within three weeks of building it out. So they have their store operating, you know, generating revenue within three to four weeks.
Patrick: That's huge.
Timothy: We walked you around our facility. It's a 25,000 square foot warehouse that we're in right now, our headquarters if you will, and you saw it. The reason we're able to build that fast is because, in those containers at the back, we have the furniture ready already, so it's ready to rock and roll.
Bill: Everything's custom-built, but we have the materials ready to build them out.
Timothy: To make it go through faster. I know a lot of the people that you attract need to get up and running fairly quickly.
Patrick: Exactly, yeah. And a lot of people, it's their livelihood. So we work with vetted bids, it could be a corporate executive that was recently laid off, and he's got to really start making that money to provide for his family. Or on the visa franchise side, you have someone that sold a lot of assets, they're going to invest, you know, open up a Techy, and they got to start getting money from it. And if the business fails, they're going to lose their visa. So the stakes are high with a lot of our clients, and we take our job really seriously. And we want to ensure that they're as successful as possible.
Bill: Well, that's the great thing is, you know, we make sure you know, we go over and beyond to make sure they don't fail. We've never had a failure, or no one get not approved for a visa. But yeah, I mean, we're definitely, you know, we want to make them feel as comfortable as possible, making the move. Like you said, if it's a corporate individual, or if it's even an E2 visa moving here from another country, we want to make them feel comfortable. And it's really a family operation. I'm the CEO, and Tim's my cousin. He's the COO. So we're very family-oriented. And we want to make everyone feel the same.
Patrick: You both grew up in South Florida?
Bill: Yeah.
Timothy: Oh yeah.
Techy's plan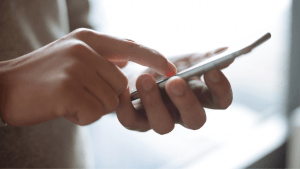 Patrick: I mean, I'm sitting right now at a 25,000 square foot facility. These guys are here to stay. No plans in the immediate future to sell the business.
Timothy: Yeah, only growth. That's the plan. I mean, this is our baby, if you will. So yeah, we've continued to grow. And especially like Bill said, partnering up with Walmart, there's so many opportunities there.
Patrick: So for our clients that are interested in opening in like Texas, California, there could be opportunities for them?
Bill: Yeah, definitely Walmart, but we also do shopping plazas. But like Tim said, you know, sometimes it's hard to get into the busier shopping plazas. So we'll get into a busy Walmart in that area. And the good thing about Walmart is you get the Walmart traffic plus with all of their marketing campaigns. And what we do outside of Walmart, you get that foot traffic is too. And you know how parking is never really that big of an issue at Walmart.
Patrick: So for franchisees, because, you know, the franchisor can provide a lot of support or little support. For a food business, it could just be negotiating with suppliers, and getting the food, and helping out with some of the national marketing campaigns. Many people, especially those coming from abroad aren't so familiar with franchising, especially outside of food, and aren't as familiar with the Techy brand. I know you've opened a location in Brazil, that's awesome, you guys are going to be growing there. But tell us a little bit about the support that you offer franchisees day-to-day and what functions that you provide to them.
Bill: So it's actually one of the groups that are training right now are from Brazil. So we do actually have a… You know, no one speaks Portuguese, we do have a translator, you know, on hand, but the support, yeah, I mean, we're here for them, you know, 24/7, between all of our corporate… You know, they get our personal cell phones.
Timothy: I mean, any issues that they have literally like, even after they leave here after the training is done, right, and they're ready to rock and then they hire on a new person. I mean, we're here at headquarters, we're always training. Just put it on request, and we'll train them here at no cost to you. You just got to obviously pay for the time that the person is here. But that's the great part about it is, we're always training. I mean, we're on this new app called Clubhouse. We're training every single day there. We, you know, do Zoom calls with all the franchisees Monday through Friday, individually and just talking about how we can help them and assist them more. So we're like, we're super involved. I mean, the number one complaint in any industry or business is communication. And I think we're really leveling that.
Patrick: That's great. I see you guys have derived a lot of channels to communicate with franchisees.
Bill: Beside, what Time mentioned, we also do daily calls with the owners, obviously, between all our stores. We can't do it all one day, but we split it up by a schedule between them to make sure we're hands-on with them, any concerns, any ideas, anything they have to make us grow, or anything to help us…
Patrick: They're in front of the consumer.
Bill: Yeah, No. They're carrying everything hands-on and anything we could help each other, you know, so communication's huge. We'd like them to feel comfortable and you know, as a family.
If you decide to start a franchise with Techy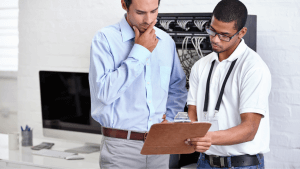 Patrick: So how I see it, if I was going to open up a cell phone repair, smart home installation business independently, I'd want to have help for training. I'd want to have the branding, I'd want to have the marketing support. What other items am I missing?
Bill: I mean, it's, you know, 12 years of being in this industry. Of knowing everything, expertise, quality of the product. You know, everything goes a long way. So, you know, we're here for them to…even, you know, when new phones come out, we're here to support them and train them.
Patrick: Okay. And they get pretty competitive… For the products, accessories, and phones, do you provide pretty competitive market rates?
Bill: Oh, of course. Yeah.
Patrick: Okay, great. So that's one less thing that they have to worry about. They don't have to negotiate with suppliers unless they really want to explore.
Bill: Yeah, of course. And they're free to, you know, pick other suppliers, but they've got to be approved by us because we want to keep our items as branded and good quality items. And another good thing about the visa program is that we actually offer at the time of closing, a sublease at hand. So I know a lot of times, you know, these, you know, people applying for the E2 visa, they have to go to these landlords.
Patrick: It's tough to get approved.
Bill: It's tough to get approved. And if you do get approved, they want at least six to eight months of security deposit from you because you don't have a social and everything else. Whereas we just require a one-month security deposit, and they get the subleased, you know, the immigration application, you know.
Timothy: Moving quicker.
Patrick: That's great. Yeah, it's a kind of a one-stop package that you offer that I think facilitates a lot.
Bill: Yeah, yeah, between remotely training and actually, you know, the package that they get at closing.
Patrick: So yeah, I imagine they're able to hit breakeven a lot faster because they're all…some of these doors are already operating or close to operating, they're coming in.
Bill: Exactly. They break even quicker. Like we said, we're open within three to four weeks, so they're generating money quicker, plus, they're going to get their application approved a lot faster.
Patrick: That's fair. And what are you looking at for a franchisee? Like, who is your ideal franchisee? Who are some of the franchisees, or the traits of franchisees too that you don't really want in the system? That you don't want joining Techy?
Who is your ideal franchisee?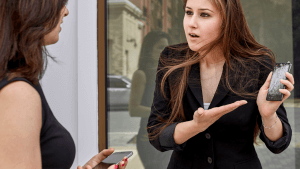 Bill: Well, the good thing is, I mean, we could train anybody, you don't need to have the quality or the skill to fix bugs. We'll train you from A to Z, even how to own a business. So when we look into the individual, just somebody very motivated. Someone that always has a smile on their face. We have actually our Techy five, you know, so just things that keep people positive, and they know that there's huge growth in the company. And that, you know, they're not going to, you know, be negative.
Patrick: Okay.
Timothy: Yeah. Like he said, motivation. I mean, just be motivated to help grow, because it is a partnership. So if you're motivated, it's going to motivate us, we're going to motivate you. And it's just a trickle-down effect, and it's going to continue to climb. So just that motivation, that drive to want to achieve success.
Patrick: So they don't need to have any particular professional background, no technology?
Timothy: No, just motivation, you know, and I mean, obviously, that stuff helps, it helps. If they do have that, obviously, that's going to help speed up the process. If you're good with customers, if you're in the retail game, in your country, or in the U.S., whatever it may be that…
Patrick: Is managing people really, really important?
Timothy: Of course, yeah, I mean, just in any business or industry that you're in, I mean, you have to be able to know how to manage your staff.
Patrick: And for those that are coming from the corporate world, I imagine you can give a good amount of training, and kind of manage how to manage these people and best practices.
Timothy: Yeah, we have a whole portal system that we'll put you through and show you those steps.
Patrick: Okay, so yeah, we have a lot of clients from Visa Franchise that are investing just cash. So $125k or more on a Techy. And then we also have Americans who have been in business, that they don't necessarily have $125k sitting around so they can go through SBA financing where they put like 30% down and the rest they get a loan. I understand you guys have been approved by the SBA for financing.
Bill: Yes. You know, we also do some in-house financing as well, depending on the individual, when they qualify.
Different options in terms of financing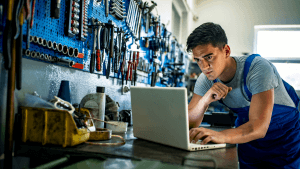 Patrick: Great. So there's a few different options in terms of financing as long as they're that positive type?
Timothy: Yeah. Motivated, ready to…
Patrick: They want to grow multiple locations. I guess on that point. Do you have franchisees that have more than one store?
Timothy: Yeah, we do. Yeah, we have franchisees….and they all have goals to open up multiple, even more locations. So we do, we welcome that. Obviously, the less partners we have, the better. Do you know what I mean? There's a better relationship there. So we're really, you know, it's nice to start off, we'll just have one location and then build that store to have multiple locations, so.
Patrick: I imagine like with one store, you can do okay, but you're not going to get "rich" off one store.
Timothy: Yeah, you're going to want to go to multiple locations, for sure.
Patrick: Okay.
Bill: I wouldn't call it rich. But yeah, you definitely, you know, there's a good, you know, margin in this business. You're buying accessories for a couple of dollars, you're selling them for $15 or $20. Also, with the repairs, you know, some of the repairs, the products cost, you know, $20 and you sell them for $100, you know, $150. Computer repairs, I mean, you're not even charging for some of them, you know, not even. Actually, it's just labor, and you're making a good margin.
Timothy: Yeah, I mean, in the service…we're a service industry. So in all of the service industries, you know, you make 20 to 30% profits off of that. So that's the great part about…after all, expenses are paid. So it's a great industry to be in, for sure.
Patrick: And then like for someone that's really interested to better understand Techy specific finances, like the sales and all that. I understand right now, it's not disclosed in the FTD, but they could potentially talk to franchisees. How do you feel about that?
Bill: Oh, 100%. Like I said, we want everyone to feel comfortable. So they can reach out to any franchisee, and they're allowed to, you know, disclose whatever information and sales that they would like to give.
Timothy: And they can even if they, if they like, they can go through a due diligence period, if they like, you know what I mean, as well.
When did you guys change the brand from Dr.Phone to Techy?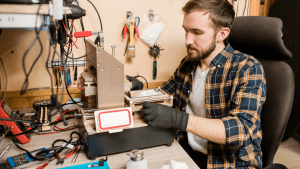 Timothy: Yeah. I mean, because we do so much more than just fix phones. Yeah. I mean, our name was Phone, we had people walking in with laptops who were like, "Where can I get this fixed?" And we're like, "Here," and they're like, "What, your company says Phone." And we're like, "Well, we need to do something." So, this has been a three, four-year process. But I think we found the right name. I mean, technology is everywhere. And people who are Techy. And we're Techy.
Bill: We're definitely techy.
Timothy: There's a lot of things you can add to that.
Bill: With the name Techy, we can morph into any technology out there. If it's services, if it's retail or anything, you know, there's technology.
Timothy: Correct.
Patrick: As you mentioned, so you changed the branding a few years ago, but how long have you guys been in business? When did you start it all?
Bill: We started 2012. But we just recently rebranded the name about a year and a half ago, and now we're, you know, changing all the stores and really getting the name out there to you know, advertise it.
Patrick: That's exciting. So nearly nine years operating the same business model, and also expanding more into smart homes and different services. And before that, I understand you were in a pretty similar industry.
Bill: Before 2012?
Patrick: Yeah.
Bill: Yeah, I was in the, you know, I have always been in the cell phone industry. And I was selling accessories. You know this is when the next sales route with your pulsar clips and all that fun stuff. So we've been around we know a phone or two.
Patrick: Great. And so we're sitting here in Fort Lauderdale. You guys have a great presence in South Florida. And now I am driving by, I'm seeing Techys all over the place. Where do you want to expand outside of South Florida? I know you have locations outside of Florida too.
Bill: Yeah, we're in about nine other states right now. And we're looking to expand, you know. So we're in South Florida and we just want to keep going North. And you know, our goal is, you know, at least two to three stores a month. So by the end of this year, you know, have another 75 locations.
Patrick: Wow.
Ready to schedule a call with Techy?
Want to learn how they have had 20+ E2 Visa Approvals?
Fill out the request form here and they will enter into contact with you within 24 hours!